Best Split and Dusted Air Conditioning Review – Daikin, Toshiba …
Updated 02.01.2021
What metrics did we use to review?
a/c capacity – the power of the ac in KW (BTU (British thermal units in past times)
Star rating – efficiency of a/c in comparison to other models with the same capacity
E.E.R/C.O.P – Coefficient of performance
Power input –  how many kw of power need to make rated output in kw (a/c capacity)
Indoor sound level
Outdoor sound level
Air Con 2.5 kw split system range reviews
brand
Daikin
Mitsubishi Electric
Fujitsu
Hitachi
Samsung
Panasonic
model
FTXF25TVMA
MSZ-AP25VG
ASTG09KMTC
RAS25YHA1
AR09KSFTAWQNSA
a/c capacity

(cooling/heating)

 2.5/3.0
 2.5/3.2
 2.5/3.2
 2.5/3.5
 2.5/3.2
 2.5/3.2
 
Star rating
 4.5
 5.5
5
 3
 3
 5.5
 
EER
 4.72
 4.9
 4.7
 3.6
 3.9
 4.8
 
COP
 4.76
 5.0
 4.81
 3.9
 4.2
 5.0
 
Power input
 0.63
 0.62
 0.65
 0.80
 0.65
 0.62
 
Indoor noise level (high/low)
40/20
 44/19
 40
 46/48
 38/21
 43/19
 
Outdoor noise level (high/low)
48/44
 46
 47/52
 61
 46
47/62
Air Con 3.5 kw split system range reviews
brand
Daikin
Mitsubishi Electric
Fujitsu
Hitachi
Samsung
Panasonic
model
FTXF35TVMA
MSZ-AP35VG
ASTG12KMTC
RAS35YHA1
AR12KSFTAWQNSA
CS-Z35VKR
a/c capacity

(cooling/heating)

3.5/3.7
3.5/3.7
3.5/3.7
3.5/4
3.5/4
3.5/4.3
Star rating
4
3.5
3.5
3.5
3
4
EER
3.85
4.02
4.07
3.85
3.72
4.38
COP
4.30
4.57
4.57
4.3
3.85
4.57
Power input
0.86
0.91
0.86
0.91
0.94
0.94
Indoor noise level (high/low)
42/20
45/19
42/22
43/25
39/21
19/46
Outdoor noise level (high/low)
44/49
50/64
49/67
47/48
48
49/50
Air Con 5 kw split system range reviews
 brand
 Daikin
 Mitsubishi Electric
 Fujitsu
 Hitachi
 Samsung
 Panasonic
 model
FTXF50TVMA
MSZ-AP50VG
ASTG18KMTC
RAS50YHA1
AR18KSFTAWQNSA
CS-Z50VKR
a/c capacity

(cooling/heating)

 5.0/5.2
5.0/6.0
 5.0/6.0
 5.0/6.0
 5.0/6.0
 5.0/6.0
Star rating
 2.5
 3
2.5 
 3.5
 3.5
 2.5
EER
 3.61
 3.79
 4.31
 3.38
 3.44
 4.42
COP
 3.59
 3.70
 4.69
 4.05
 3.50
 4.58
Power input
 1.44
 1.47
 1.16
 1.51
 1.45
 1.31
Indoor noise level (high/low)
 45/28
 48/28
 46/29
 47/26
 41/25
 47/29
Outdoor noise level (high/low)
 50/46
 69/56
 47/48
 50/53
 51
 48/43
Air Con 7 kw split system range reviews
brand
Daikin
 Mitsubishi Electric
Fujitsu
Hitachi
Samsung
Panasonic
model
FTXF71TVMA
MSZ-AP70VG
ASTG24KMTC
RAS70YHA1
AR24KSFTAWQNSA
CS-Z71VKR
a/c capacity

(cooling/heating)

 7.1/8.0
7.1/8.0
7.1/8.0
 7.0/8.0
 6.8/8.0
 7.1/8.0
Star rating
 2.5
 2.5
 2.5
 2
 2
 2.5
EER
 3.32
 3.53
 3.41
 3.41
 3.23
 3.5
COP
 3.31
 3.82
 4.19
 4.04
 3.33
 3.7
Power input
 2.12
 2.20
 2.0
 2.5
 2.4
 2.2
Indoor noise level (high/low)
 49/30
 49/30
 49/29
 47/30
 45/27
 49/34
Outdoor noise level (high/low)
 53/47
 55/69
 54/52
 53/51
 53
 54/49
We have just updated our guide on how to buy the best air conditioner for your home.
What is the best air conditioning in 2020
---
Without what technology is it impossible to imagine a cozy climate in the house? Air conditioning with heating will give residents a sense of comfort all year round.
In this article, readers will find comparative characteristics of the best models of domestic and commercial air conditioners.
You can draw conclusions based on several criteria: functionality, noiselessness, reliability, ease of use. And also you can correlate the prices for each model with the above indicators.
This DIY AC installation guide is definitely worthed your attention.
---
Top air conditioners according to buyers
The Mitsubishi Heavy Industries brand has earned the highest user ratings in Canstar Blue. The buyers scored the highest score for functionality, reliability in operation, and low noise level. For ease of use and value for money, the air conditioners received 4 out of 5 points.
Most Australian residents already have air conditioning or are looking for a suitable model. If your air conditioner is old, you should also read our review. You can appreciate the wisdom of using the latest energy-efficient types of equipment.
Rating Canstar Blue every year evaluates the most popular models of air conditioners according to various criteria. The creators of the review rely on the opinions of customers. To assess the reliability, functionality, and ease of use, we take as a basis the user experience.
They compare not only domestic air conditioners but also powerful models suitable for maintaining a comfortable climate in large offices, shops or apartment buildings.
All types of air conditioners take part in the rating: split and reverse cycle systems, ducted air conditioners, window air conditioners. Mitsubishi Heavy Industries topped the ranking, but other brands on the list are also worth reading.
Air conditioners worthy of your attention
List of popular Australia air conditioners with niche features:
Mitsubishi heavy industries.
Kelvinator.
Mitsubishi Electric.
Panasonic.
Fujitsu.
Samsung.
Daikin Company.
LG.
These brands are highly rated by users and also comply with stringent safety and energy efficiency requirements. Each rating was assigned with a minimum of 30 votes. People noted Kelvinator air conditioners as the easiest to operate. For reliability, customers praised Mitsubishi Heavy Industries, Kelvinator, and Panasonic. Functionality and noiselessness have become the hallmark of the brands Fujitsu General, Mitsubishi Heavy Industries, and Samsung.
Each brand focuses on 1-2 criteria. Also, a lot depends on the specific model. Further, we propose to study in more detail the characteristics of the best air conditioners according to users. If you want to get as much information as possible, at the bottom of the rating, we will look at a few more quality brands that are not included in the list.
Mitsubishi heavy industries air conditioners review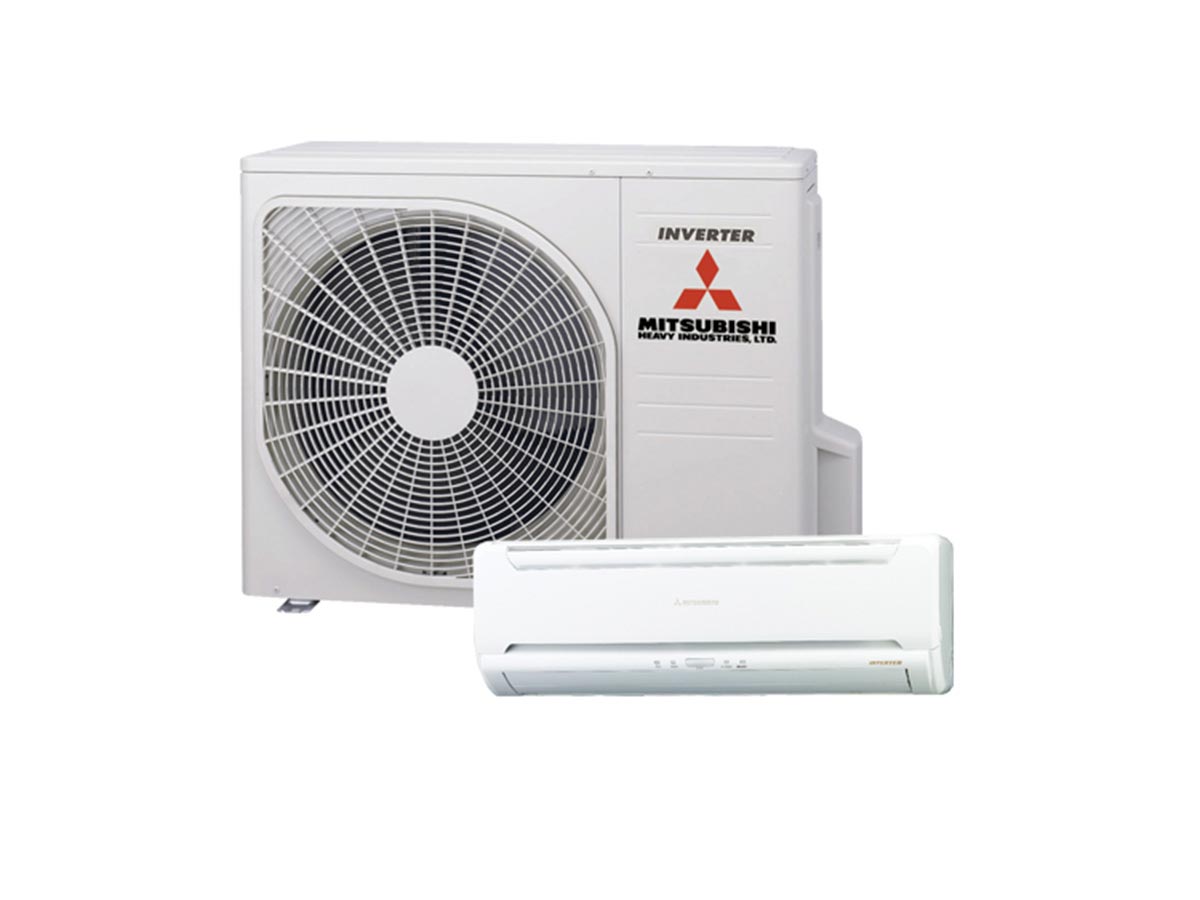 The brand makes premium quality air conditioners. In the assortment, customers will find many split systems with different capacities. Most models fit in the range from 1.7 kW to 9.5 kW. The cost of such air conditioners reaches 2,000 US dollars. The super-efficient Avanti PLUS Platinum Series has the highest rating and power of 2 kW.
Given the full range of capacities, we can conclude that the suitability of Mitsubishi Heavy Industries air conditioners for various spheres of life. Buyers will quickly pick up more modest models for cooling small apartments or hotel rooms. Owners of large offices and stores will also find suitable options.
The air conditioners of all ranges have an integrated Allergen Clear filter to trap particles of dust, harmful bacteria, and unpleasant odors. You can control the temperature and change other settings directly from your smartphone using Wi-Fi. Customers rated ease of use at 4 points out of 5 precisely because of the large number of functions and system settings.
Kelvinator
This brand of air conditioners is a branch of the Electrolux group of companies. The manufacturer makes the main emphasis on profitability. Among the variety of models, you can find split systems, walls, and window air conditioners. Power varies from 1.6 to 8 kW. The average purchase receipt is $ 1,000, but there are models priced at $ 479.
Given the budget segment of the market for which the air conditioners are designed, they have a minimal set of functions. At the same time, the manufacturer made the use of equipment comfortable. Consumers get a 24-hour timer and auto-restart. Also, many models have hidden digital displays with dimmable backlight, HEPA, and ion filters. LCD remote controls are available in all systems.
Energy efficiency indicators are industry average and amount to about two to four stars. Several 2.5 kW models received five stars for energy efficiency. In terms of price and quality, they are the best models for creating a comfortable climate in small rooms. Customers also noted the reliability and ease of use. According to these criteria, the brand received maximum user ratings.
Mitsubishi air conditioners review
This brand launches all types of air conditioners on the Australian market. Customers can find duct, wall, ceiling, console systems with one or more indoor units. A diverse capacity allows you to cover the domestic and commercial segments of the market.
The main difference between Mitsubishi Electric air conditioners from competitors is their unusual design. If your interior suffers from typical white models, the black or silver technique will look modern and elegant.
Another technical feature of the line is long and wide horizontal blades. They mix air more efficiently and direct flows to the far corners of the room. Premium segment models have built-in inverter technology. More straightforward instances run at the same speed.
The MSZ-GE Series has the lowest noise level in the industry. It is for 19 dBA. Some series equip Wi-Fi to control the system through a mobile application remotely. Catechin branded purification filters purify and disinfect the air, trapping bacteria and viruses. And Plasma Duo filters allow you to remove unpleasant odors from the room. The simplest models will cost consumers less than $ 1,000, the most expensive – $ 4,500.
Panasonic
In the assortment of the Panasonic brand, many air conditioners meet the highest standards. Users will find blocks with a reverse cycle, cooling inverters, including multichannel ones. The brand also produces cassette, ceiling and duct air conditioners.
The category of wall-mounted models has become the most numerous. It has about 30 variations. Thanks to individual sensors, the ECONAVI series detects the presence of a person and automatically starts the system. These air conditioners also respond to changing the time of day by fixing the brightness of sunlight. These features help you adjust the intensity of work and save energy. These air conditioners even respond to movement activity. The more intense you move, the more the appliance cools the room.
Inverter technology allows you to change the speed of rotation of the motor automatically. This feature helps to cool the room after turning on the system quickly. After reaching the set temperature, the rate slows down to maintain a stable temperature.
Buyers can choose the type of air filter. The manufacturer offers cleaning, disinfecting and deodorizing options. The minimum price for an air conditioner is about $ 1,000. The most expensive models will cost about $ 3,000. There are best rated by users, the reliability of Panasonic technology. Other indicators deserved 4 stars out of 5.
Fujitsu ducted air conditioners review
Fujitsu has in its range any type of air conditioner for commercial or residential use. In the manufacturer's catalog, you will find wall, ceiling, and cassette models, as well as duct ducts and systems with several indoor units.
The most popular among the air conditioners of this manufacturer, users, recognized wall-mounted devices. The brand has developed three classes of equipment. These are Classic, Lifestyle, and Designer. These three lines have different designs and functionality. The most expensive models of air conditioners Fujitsu General cost about $ 4,000.
Classic Series air conditioners are easy-to-use, reliable, and affordable systems. Lifestyle systems are as energy-efficient as possible. According to this indicator, they got 5 stars out of 5. Designer models are the most multifunctional. The appearance of all three series fits perfectly into a modern home or office.
Moreover, all air conditioners are equipped with motion sensors. The equipment turns off if no activity has been recorded in the room for 20 minutes. This function helps prevent energy loss if residents leave the house and forget to turn off the appliance. Also, many instances have Wi-Fi so that they can be controlled remotely through a mobile application. All Fujitsu General air conditioners received a rating of 5 stars for a record low noise level.
Samsung air conditioners review
Air conditioning manufacturer Samsung has focused on the production of ducted or powerful industrial models. Household series includes several options with a power range from 2.5 to 8 kW. A distinctive feature is the presence of a turbo mode. The maximum high speed of the motor allows you to bring the temperature in the room to the required quickly.
Automatic mode adjusts the fan speed to the specified heating or cooling parameters. A right sleep mode directs the air currents up so that they do not interfere with the rest of the people in the room. Also, this model has the lowest noise level.
The brand has earned 5 stars for functionality. Air conditioners support fan mode without cooling or heating. After turning off, the motor runs at low speed for a while so that the heat exchanger has time to dry. This minor feature prevents the growth of bacteria in a humid environment. Energy efficiency is only 2 stars, which is not the best indicator. Ease of use, people rated it 4.
Daikin air conditioners review
Daikin offers consumers various options for air conditioning. In the catalog, you can find split systems with one or more indoor units, as well as ducted air conditioners. Most models come in different configurations with different functions. Also, each model exists in the option of cooling only or with a reverse cycle.
Many arrangements complement Wi-Fi technology for remote control using a smartphone. The US7 model received 7 stars for premium energy efficiency. The company uses environmentally friendly air filters that people with allergies or asthma can use.
The manufacturer has also expanded the range of wall models ceiling and floor. Depending on the set of functions, the price difference maybe 5 times. Buyers rated low noise with 4 out of 5 stars.
LG
The LG brand has developed six types of air conditioners. Among them, there are split systems and multi-split systems, wall air conditioners. In all models, the manufacturer integrates a reverse cycle and an active energy control mode. This function makes it possible to set any restrictions on energy consumption. Airflows can be adjusted horizontally and vertically. More advanced models equip Wi-Fi to control remotely via a smartphone.
The company also pays a lot of attention to noise reduction. Noise from indoor units at low speed is only 19 dBA. The outdoor units located on the street also work very quietly. All air conditioners have an automatic cleaning mode. Upon purchase, each user chooses the type of air filtration system as they wish. The minimum price threshold is $ 1,000. The maximum price exceeds $ 3,000.
Exceptional features that you should pay attention to in specific models include sleep mode with ultra-low working sound (19 dBA), silent operation outdoors to reduce noise from the external unit, and various types of filtering and automatic cleaning systems. LG units can be found for around $ 1,000, and their price reaches over $ 3,000. According to all criteria, buyers rated LG 3 stars. For the price-performance ratio, the brand earned 4 out of 5 stars.
Other brands of air conditioners
The following manufacturers of air conditioners did not get into our rating not because they are of poor quality. These brands did not receive a sufficient number of votes confirming their compliance with consumer expectations. But we are still confident that someone can find their perfect air conditioning here.
Dimplex
This brand specializes in small portable heaters and air conditioners. But the manufacturer also produces good split systems. The consumer will get a hushed engine and uniform cooling or heating of the air. The price is around $ 1,000.
Midea
These air conditioners belong to the middle price segment. Most models fit into the budget of 800-1700 dollars. For this amount, customers receive a reliable cooling system with a turbo mode for faster distribution of airflows. Sleep mode is automatically activated if there is no movement in the room for a long time. Self-cleaning coil for smooth operation.
TCL
The company offers consumers window air conditioners and split systems. The price of most items in the range does not reach $ 1,000. The equipment capacity is sufficient to maintain a comfortable climate in small and medium rooms.
Hitachi
The brand produces a variety of types of air conditioners that are suitable for commercial or domestic use. Buyers will find in the catalog floor, and wall split systems, multi-split systems, duct, and cassette air conditioners.
How to choose a suitable air conditioner?
Most buyers consider several key criteria. Among the determining factors, users named:
Energy Efficiency: 44%.
Price: 41%.
Appearance: 5%.
We urge you to pay attention to essential indicators
The size
The size of the indoor and outdoor units of the air conditioner is significant. In some cases, this parameter only affects the beauty of the interior and exterior. In other cases, there may not be room for proper placement of the air conditioner.
The size of the blocks is directly affected by the power of the equipment. The larger the area of ​​a room or house, the more powerful, and therefore more should be air conditioning. Manufacturers are advised to calculate power based on the optimal indicator.
The cooling capacity in the range from 1 to 1.5 kW is enough for 10 m² of space. For rooms with non-standard high ceilings, extra power should be laid.
Air Conditioning energy efficiency
Consumers give priority to this indicator. Many even change the old working air conditioners to new ones, since their energy efficiency is 50% higher. Such a solution pays off in just a few months of operating the equipment due to record low electricity bills. A third of buyers preferred models with an energy efficiency rating of 3-4 stars. Slightly fewer buyers chose more expensive air conditioners with an energy efficiency of 5-6 stars.
Show energy ratings
In April 2020, manufacturers will begin to stick expanded labels on products that reflect energy efficiency. The values will have gradation depending on the hot, medium, or cold climatic zone. Additionally, brands will indicate noise levels at maximum load. Changes will affect portable and ducted air conditioners up to 65 kW.
Price
Modern energy-efficient models have a higher initial cost. But given the lower electricity bills, in a few months, their price will be equal to simpler and more affordable air conditioners.
Design
This indicator was noted by only 5% of buyers. If you don't want a regular white rectangular air conditioner, check out Mitsubishi Electric and Daikin. Their catalogs have black, silver, and curved cases.
Connectivity
Control over the Internet using Wi-Fi manufacturers have implemented in all modern air conditioners. For many users, it is essential to be able to set your favorite settings from your phone on the way home.
Which brand and model of an air conditioner to choose?
Many air conditioning users have spoken in favor of the Mitsubishi Heavy Industries brand. These systems combine multifunctionality and reliability, which is essential for smooth operation throughout the year. But it would be wise to choose air conditioning based on the needs of each particular house or apartment. Such factors should influence the decision as area, layout, ceiling height, frequency of people in the room, and many others. Price is also not the last selection criterion.
Recently, when choosing an air conditioner model, power and energy efficiency have come to the fore, as no one wants to pay huge electricity bills. Performance calculation is vital so that the air conditioner is powerful enough for the facility to be serviced. At the same time, too powerful a model that continually works at minimum settings is subject to faster wear.
Therefore, to appreciate the brand and model of an air conditioner, it is essential to conduct an in-depth study of the industry or entrust the calculation of power to professionals. More expensive modern models are 25-35, or even 50% more energy efficient. The difference in price will pay off in a few months due to low electricity bills.
If you are looking for a ductless mini-split system comparison read this updated post.
FAQ
Which brand air conditioner is best?
In 2020, the majority of users voted for the Mitsubishi Heavy Industries brand. These systems combine versatility and reliability, as well as ease of management.
What is the best home air conditioner?
Power and energy efficiency must be considered when choosing a model, as this will affect the size of your electricity bills. Ducted air conditioners are most effective in maintaining the microclimate in the house.
What is the best brand split system air conditioner?
Mitsubishi Heavy Industries has received the highest user ratings in Canstar Blue. The owners awarded the highest scores to the system for functionality, reliability and low noise level.
Quality air conditioning solutions
We do what we love and love what we do. We are air conditioning company based in Sydney.
---